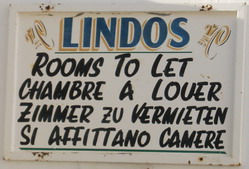 If you haven't already booked accommodation with a tour operator there are a number of ways to find somewhere to stay.

You will generally find ladies in the main square offering rooms to let to people arriving with luggage. You will also find "To Let" notices around the village. Some of these rooms will be fairly basic, probably in someone's house, and some will be self contained apartments or studios. The rooms will tend to cost around €40 to €60 a night (£32 to £48 a night).

Most of the tour operators with accommodation in the area work out of the Pallas Travel Agency. They may well have unlet apartments and studios.

The majority of accommodation in Lindos consists of one bedroom or studio apartments for two to four people. The only company offering a serious choice of larger villas and, in our opinion, the best villas in Lindos, is Direct Greece.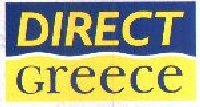 RESERVATIONS
GLASGOW 0141 559 7111
MANCHESTER 0161 236 2838
LONDON 0208 785 4000




To request a brochure - telephone 0870 516 8683

Granite House, 31-33 Stockwell Street,Glasgow G1 4RY

HOTEL STELLA - PEFKOS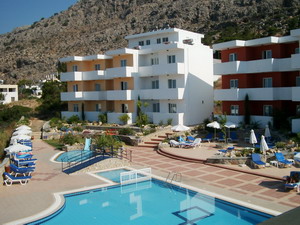 For those who are looking for accommodation in Pefkos
- you could try the Hotel Stella.
You will find details and pictures by following the "Nearby Pefkos" link on the main "Lindos" page.