Lindos, Rhodes, Greece,is probably my favourite foreign location. This picturesque, ancient village, with its Acropolis towering above, captures the heart of all who visit.

My family has been visiting Lindos since 1982 and we are drawn back again and again. I'd like to share some of our love of the place with you.


APPEAL

Holly Ann Schofield, a friend to many regular visitors to Lindos, has suffered a tragic accident. She was hit by a speedboat while swimming at Lindos. She has undergone an initial stage of surgery to treat her life threatening injuries. Her family is urgently trying to raise funds to enable her repatriation for treatment at home..

If you have a Paypal account.. please log in and send a donation to helpforholly@lindoseye.com

If you can't donate via Paypal - please send me a message and I will accept payment via my bank and donate the funds myself.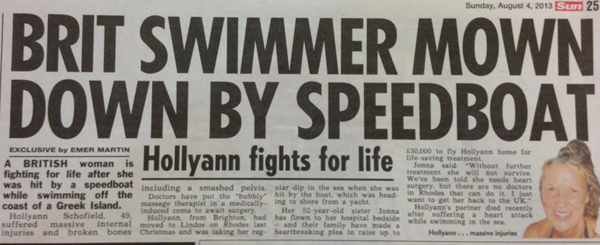 If you use any of the places or services mentioned on this site -
do tell them where you heard about them!
[The information contained in this site is designed to be informative and is merely personal observation and opinion. Any specific details, such as costs, are given in good faith, but may have changed since publication. While the site author hopes that you will enjoy places and establishments mentioned in this site, site visitors who visit places or partake of services from establishments mentioned on this site do so at their own risk. The site author accepts no responsibility or liability whatsoever for any adverse outcomes experienced by site visitors as a result of any such action.]