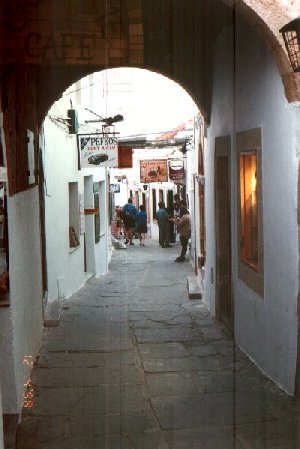 Once one of Rhodes' ancient and important cities, Lindos grew to prosperity under the Knights of St. John. So much of medieval Lindos has survived that it has been declared a national landmark.

No vehicles other than motorbikes, small delivery vans and the donkeys which carry tourists to the acropolis are allowed on the paved streets and little or no changes can be made to the buildings, many of which have survived since the 15th Century. Consequently, Lindos has retained a wonderful sense of antiquity. The nearest hotels are out of sight above the village or in the next bay - except for the wonderfully impressive, extremely classy and expensive, Hotel MelÚnos being built in keeping with the Lindian/village style at the edge of the village next to the school.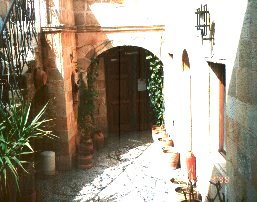 The architectural style of the village is a mixture of Gothic, Byzantine Greek and middle Eastern influences. The village boasts some wonderful painted ceilings and so many traditional, distinctive, white and black "chochlaki" pebbled floors.
This is the courtyard of
"The Captain's House" (Direct Greece)
a villa we have rented several times.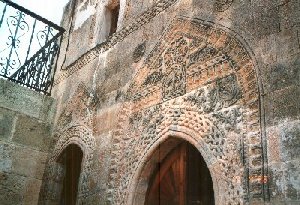 Lindos is famous for its facades, doorways and windows with their elaborate carvings. This is the doorway of the main sala or living room of the villa, one of the village's many Captain's Houses. It dates from 1649 and has a high Syrian arch, painted ceiling, and traditional, raised Lindian bed platforms.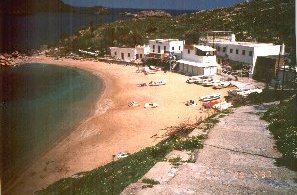 While the main beach stretches across the back of the enclosed bay, we prefer the smaller Pallas beach. Here it is at the very start of the season. Later in the year it will be crowded and you will be pushed to find a space without paying for an umbrella and loungers.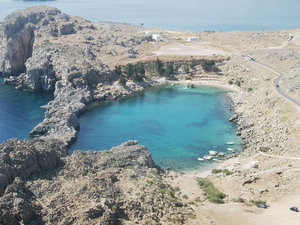 At the back of the village a path leads down to St. Paul's Bay. A natural harbour, the bay became a refuge for St. Paul's ship during a storm in 58 AD. His arrival led to the establishment of Christianity on Rhodes.
This view is from the Acropolis.




Return to Top of Page